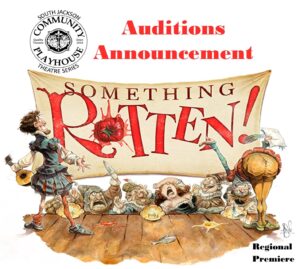 Something Rotten Auditions
Be a part of the cast for this Broadway hit's regional premiere!
Audition Dates:
October 28 at 10am
October 29 at 2pm
October 30 at 6pm
Performance Dates:
February 9-18, 2024
How to Prepare:
1. Auditionees will need to bring 90 seconds of music.
(playback device and dongles for phones will be provided, but we will not have an accompanist present).
2. Be prepared to do cold reads from the script.
3. Please come dressed for a dance audition as well.
**We will be taking pictures at auditions for the cast announcement video, so come picture ready – style your hair/makeup however you would like for people to see a picture of you.**